Beach Pond 

Enjoy our Private Sandy Beach Pond exclusively for registered guests. Not open to the general public.
Fine Natural Sand
Floating Slide
Aerator Fountain
Natural Spring-Fed Water
Water Depth ranges from 3 to 8 ft. depending on water table level
Never Overcrowded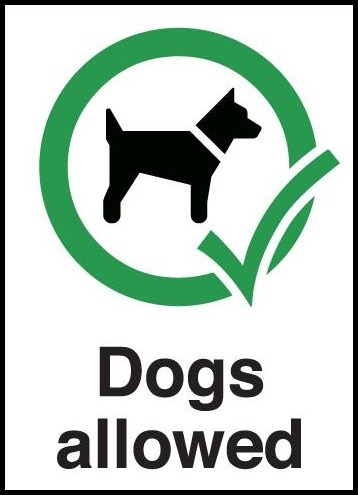 Camping with your pet can be a lot of fun for you, your family and of course, your pet. Friendly Pets are Welcome at Debonair Campground but with the respect of the Campground's "Petiquette".
Pets are not allowed on the Beach or in the ponds. Pet waste is a contributor to bacterial contamination in our rivers, lakes, ponds, streams and beaches. Children play in the sand and sunbathers recline in it. A single gram of pet waste contains an average of 23 million fecal coli form (for example E. Coli) bacteria.
Help prevent environmental contamination by picking up and properly disposing of your pet's feces. Carry disposable bags while walking your dog. Removing feces prevents transmitting diseases to animals and people.
The noise of a continuously barking dog is enough to try the patience of even the friendliest neighbour. Dogs bark, howl and whimper for a variety of reasons – they may be lonely, bored, attention seeking, defending their territory, or ill. Many times dogs are left tied and unattended. The owner may not even be aware there is a problem. Try discussing the situation with your neighbours. Ask them how your dog behaved while you were away. If you learn your dog barked or whined while you were away, please refrain from leaving your dog unattended in the future. It is unrealistic to expect dogs to never bark. However excessive or habitual barking, howling and whimpering is not tolerated in the campground. As a dog owner, you are required to control your dog's barking.
St Pierre Veterinary Hospital
Hwy 59 S, St Pierre Jolys, Manitoba R0A 1V0 
(204) 433-7956
The most peaceful feeling invades the campground at night when campfires are lit and the smell drifts through the air. There's something about sitting around a cozy campfire, staring at its glow, and watching the sparks dance upward against the evening sky.
Each campsite is furnished with a firepit and picnic table. Firewood can be purchased at the office or you can bring your own.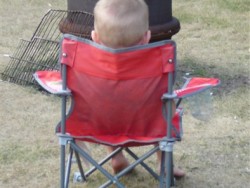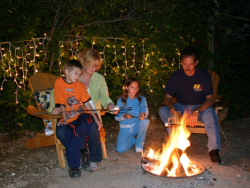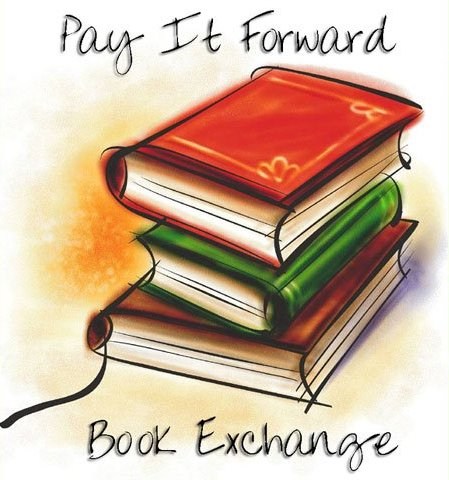 Love to read novels? Join your fellow campers in some Novel Recycling.
Drop off, exchange, borrow or take used novels at the Campground Laundromat.
Debonair Campground GPS Coordinates:
Decimal Degrees (WGS84):
Latitude:
49.32615
Longtitude:
-96.942767
Degrees, Minutes & Seconds:
Latitude:
N 49 19 34
Longtitude:
W 96 56 33
GPS:
Latitude:
N 49 19.569
Longtitude:
W 96 56.566
Click here for hidden Geocaches within a 15 mile radius of Debonair Campground.
Join your fellow campers in a game of horseshoes or volleyball. No need to be a good player to play. You'll just fit in better if you're not.
If you're a lawn-chair potato, come cheer and mingle with campers and friends while watching others play.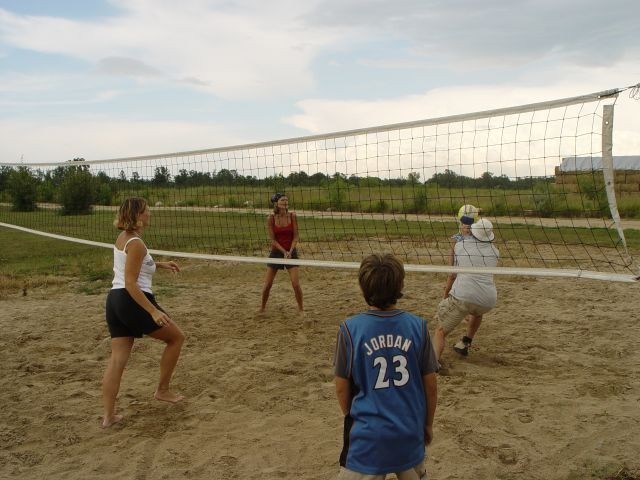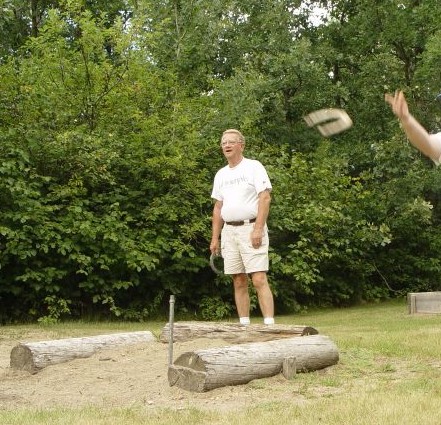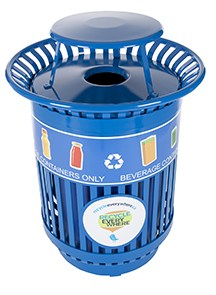 One of Debonair Campground's vision is "a cleaner and greener campground" where natural resources are used wisely, waste is reduced, adverse climate change impacts are minimized, and sustainable development is increasingly understood as the key to unlocking future economic prosperity and a high quality of life.
There are Recycling Bins throughout the campground.  You can put small recyclable items in these bins such as cans and bottles anytime.  Please DO NOT put garbage or non-recyclable items in these bins.  We are allowing campers to put their bags of recycling next to these bins.  To not confuse garbage with recycling, they must be in clear plastic bags and next to a Recycling bin, not Garbage bin.  For any other day of the week, Bags of Recycling can be dropped off anytime into the big Blue Recycling Box located at the entrance of Horseshoe Bay.  No sorting required but MUST BE IN BAGS, not loose in the box.  The Recycling Truck will pick up the recycling at Debonair on Mondays, Tuesdays after a Long Weekend.  For Large items that won't fit in a bag, you can bring them directly to the Recycling Depot in town.
Beer cans in the Recycling Bins are most Welcome.  Please do not crush or pick them out of the bins and/or Recycling Box.  They are a donation to Smile of St. Malo who will sort them and cash them in for their organization.  SMILE of St. Malo Inc. is a non profit organization committed to advocating and promoting inclusion in the community and surrounding areas for Individuals with intellectual disabilities. They provide support, opportunities and resources to develop independence so that they may each live their unique lives as they so choose.
The following materials are accepted for recycling:
ALUMINUM BEVERAGE CANS (tin cans): Please rinse, remove labels and flatten if possible.
PLASTICS:
#1 – Soft drink bottles.
#2 – Milk jugs, ice cream pails, margarine, yogurt, pill, shampoo, liquid laundry detergent container.
#4, #5 & #7 – Margarine, Ketchup and shampoo containers.
Please check bottom of containers for the following symbols:

PAPER: All newspapers, flyers, books, magazines, office paper & phone books.
CARDBOARD: All cardboard (please flatten), Milk cartons (please empty, rinse and flatten), Tetra-Pak Juice Boxes. (Please empty, rinse and flatten)
GLASS AND JARS: Whole bottles and jars only, please rinse and remove all caps. No broken glass.
The following is not recyclable: All Styrofoam (including egg containers) used paper plates and napkins, tissues, diapers, food scraps, etc.
Ever wonder what becomes of our recycled items?
This building houses clean modern washroom facilities with flush toilets, sinks, coin operated clean showers, and a laundromat. Each private individual locking shower room has a spacious change area with a bench, clothes hooks and a large shower stall. Showers are $1.00 for 8 minutes. Laundry equipment is $1.00 per wash or dry.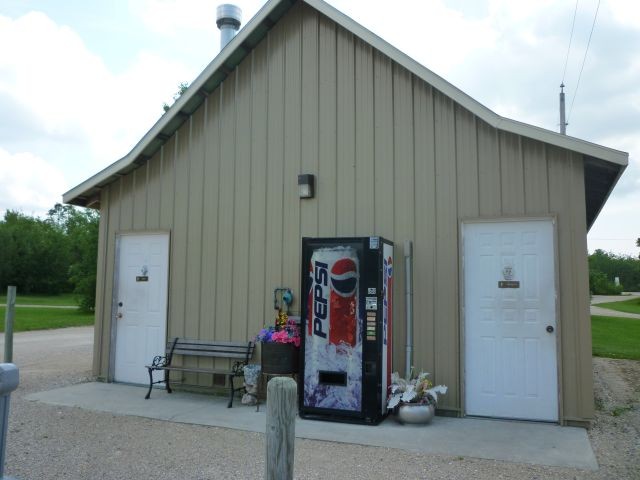 Washrooms / Showers / Laundromat
2 Wifi Internet Hot Spots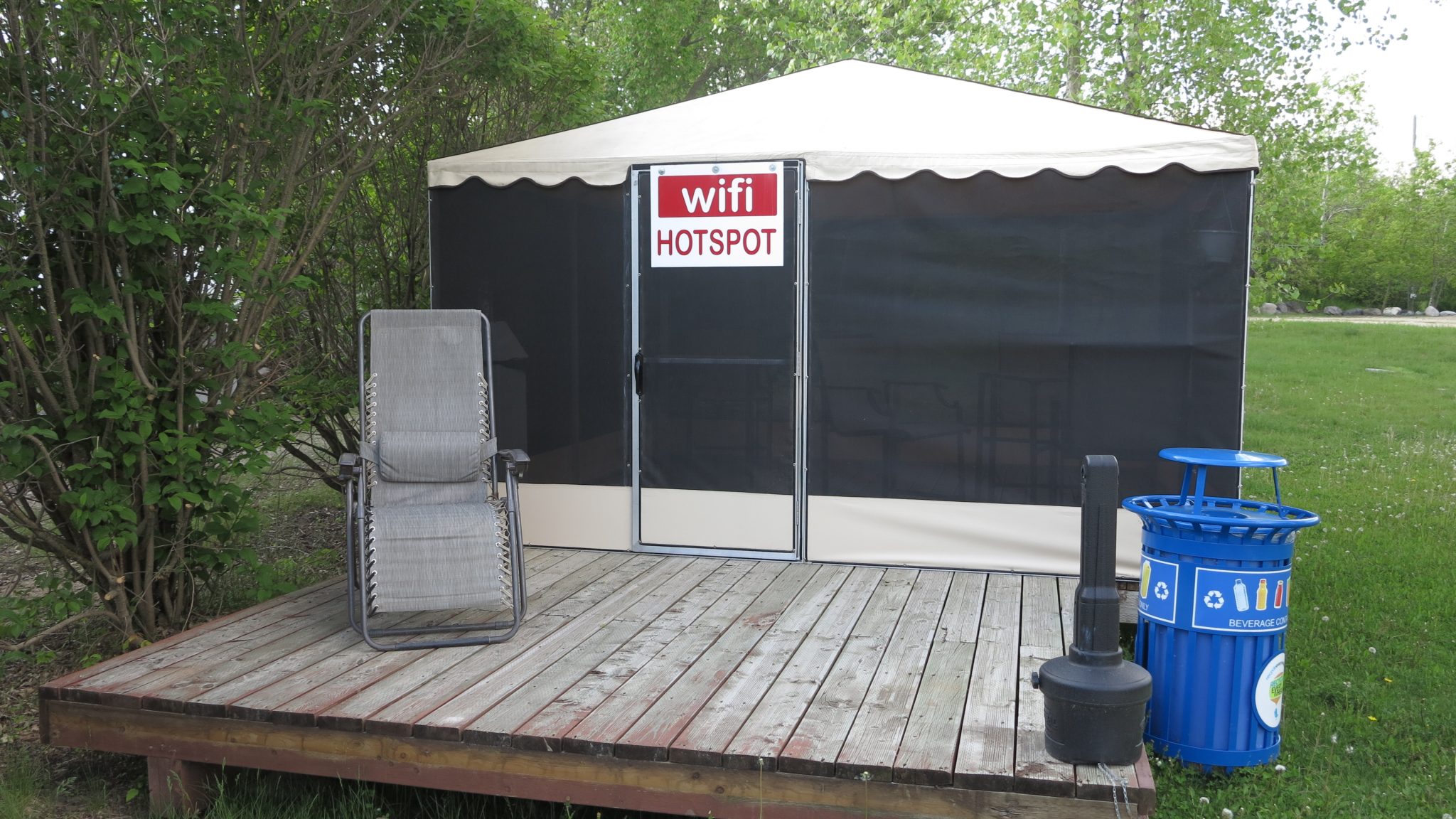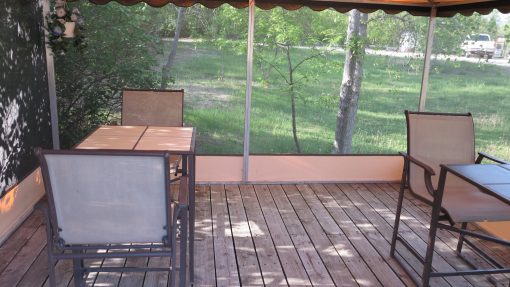 One at the beach and other near the office and washroom building.  You can check your email, network, research, do your online banking, work away from the office, etc.
The Community of St. Malo is conveniently located 1 mile from Debonair Campground. There are friendly merchants ready to serve you and local attractions and events to explore.
Casual Camping Availability Calendar & Request Reservation Form!